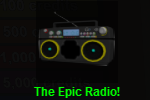 The Epic Radio!
is an accessory in
The Mad Murderer
. Possibly the most popular accessory, the Epic Radio allows players to play any Roblox audio code they desire and play it in the game (only when in-game, not in the lobby). Players can also change the pitch of the audio, the volume, and play the audio on loop.
The Epic Radio is not only available for purchase in the shop, but players can permanently purchase the Radio as a game pass, costing 700 Robux. The Epic Radio used to cost 500 credits per round and was the most expensive accessory in the shop. However, after the XMAS Update, you can only buy it permanently for Robux.
Shop Description
Play all your favorite music and even shift some pitch with this baby!