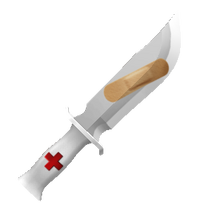 The
Surgeons' Knife
is a white Knife Texture with a Red Cross on the grip and a Band-Aid on the blade.
The Surgeons' Knife costs 19 credits per round as murderer and costs 2,000 credits to permanently buy it. After the XMAS Update, like all shop items, The Surgeon's Knife can only be bought permanently.
Shop Description
"Let me heal you!"
Trivia
The Surgeon's knife was originally named Surgeon Simulator, a reference to the game of the same name.
In one of the thumbnails, Chazz is seen holding this knife.