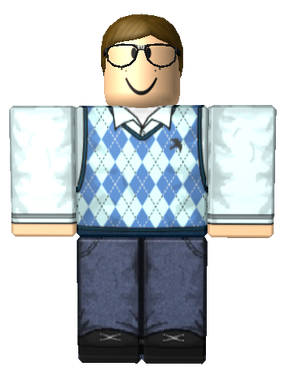 Basic Info
Steve is a character who was introduced in the XMAS Update of 2014 in the game The Mad Murderer.
Not a lot is known about him, considering he is a new character, but judging by his appearance, it is possible Steve may be a nerd.
Appearance
Steve wears the Normal Boy Hair, the Freckles face, the Nerd Glasses, and a white and blue argyle vest over a pale blue collared shirt. He also wears blue slacks and black shoes.
Trivia
Steve was added in the XMAS Update.
Steve was never deleted and remains playable.