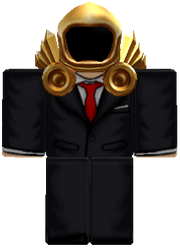 Rick is one of the Summer Update characters in the Mad Murderer.  
Appearance
Rick wears a black suit with a red tie and the Domius Aureus. Unlike the other fellow Dominus wearer, Harry, he has a head inside the hat.
Trivia
Unlike most of the crew, Rick was never removed (this includes at Christimas Update, along with Axel, Gordon, Jack, and Tom).
He is commonly believed by fans to be the brother of Harry.