Ralph was a character that was introduced in the Summer Update of 2014 (version 0.1.2). He later got removed.  
Appearance Details
He had no hair. 
He had the Awkward... face. 
He also wore a black jacket and blue jeans with white shoes. 
His body's color was whoever portrayed his body's color.  
Why He Was Removed
Ralph was removed because the model was poorly constructed. The character model submission lacked the important BodyColors instance and his blonde hair was not a hat but only a part welded with his head. Such way to include hats do not work with the morph script. Additionally, his clothes were rather poor-quality.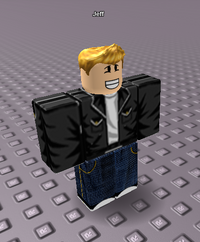 He can be said to have been the most poorly-constructed character in
The Mad Murderer
.
It is highly unlikely that Ralph will ever be playable in TMM again.
Trivia
Ralph was the first character to be removed.
Ralph's original name was Jeff.

Among the knives added in the Halloween update was a knife made of a gravestone, belonging to Ralph Holmes, born 9th of September 1995, died 10th of November 2014, confirming the character having officially died after his removal from the game.

10th of November 2014 was chosen as the date of death because that is the day the information about his removal was added to the wiki.
Ralph is revealed to be 19 years old.