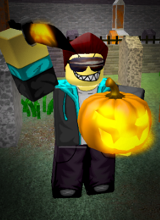 Pumpkin Hunt
was an event gamemode in
Mad Games
.
Gameplay
After a brief intermission, all players receive a harmless knife that they can only throw and use to destroy pumpkins for points, closely resembling Balloon Hunt gamemode. The pumpkins are on the ground and do not move, but are harder to spot in the Graveyard map as it is full of obstacles, partially covered by mist and is quite small in comparison to the Pool map seen in balloon hunt. Whoever gets the most points before the timer runs out or until all the pumpkins are gone, wins.
The prize for 2015 is a pumpkin aura, and the prize for 2016 is a Pumpkin Gun.
Trivia
This gamemode was always played on its unique map, the Graveyard.
The sound of destroying pumpkins was the same which plays when balloons are popped.
This was one of the two gamemodes where the radio was disabled during the 2015 Halloween event. The other being Cat Attack.

The 2016 Halloween event however does not disable the radio.

It will show "No pumpkins were harmed :(" if no one has ever crushed the pumpkin during the round.