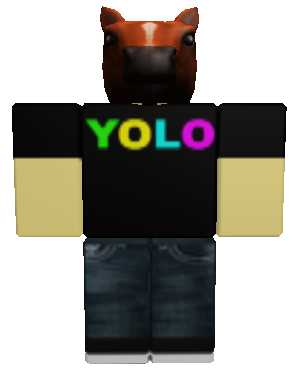 Nick is one of the original characters from The Mad Murderer, and is a Tier 2 character in Mad Games.Nick is often called "Horsehead".
Appearance
Nick is a white male with a horse mask on, wears a black "YOLO" t-shirt, blue faded jeans and black shoes.
Trivia
Removing his "head" will reveal that he has the "Stare" face.
Nick was deleted in the XMAS Update, but added back in the Old Merge.
Nick appears in many thumbnails and advertisements, usually portrayed as a jealous murderer.
Nick could be a joke about a creatures member called Sp00nerism on Youtube.
It is stated on his Mad Paintball description that he is unable to take off his mask.