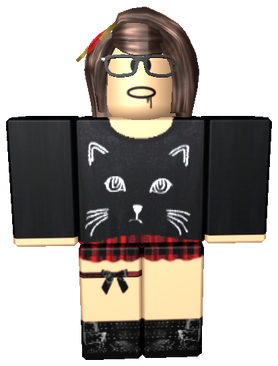 Maisy is a new character added in the 2014 Christmas Update.
Appearance
She wears black leather shoes, red and black ribbon around her right leg, a red skirt and a black shirt with white cat face on it. She has glasses and a hair pin resembling a red heart with golden arrow going through it. She has the Drool face.
Dexykid's Canons
Dexykid, the creator of Maisy, had some canons when she published her model. Maisy does whatever her cat, Zara, tells her to do. Zara is the one who makes her murder people, similar to how Kat's unicorn makes Kat kill people.
Trivia
Maisy originates from the game Roblox High School by Cindering.

Her name was actually Daisy at first.

Her model was submitted by Dexykid, based on their avatar at the moment of submission.
Maisy was supposed to have a black cat sitting on her shoulder. The cat's name is Zara.
She is shown in the Hollystar ad in the Spacecraft map in Mad Games.

This is implying that she may be a model for Hollystar.