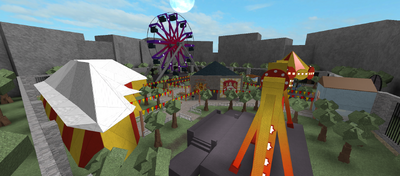 Mad Carnival is a map in Mad Games made by BRAYONCE. It's a carnival that contains three rides: a Ferris wheel, a carousel, and a giant swing. There is also a tent with ten tables and a stage that would contain performances. Other areas contain two duck shooting galleries, a concessions stand, and a ticket booth.
This is one of the biggest maps in Mad Games, thus giving the sheriff an advantage since the map is so open.
Trivia
This along with Mad Pool are the first new maps to be added to Mad Games.