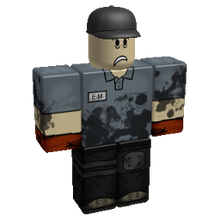 Larry is a craftable character in Jury Rigging.
Appearance
Larry is a white male who wears a grey cap, a grey collared shirt with stains on it, a white name-tag, red gloves, black pants, black shoes, and a black knee pad.
Description
"Owner of a widely unknown car repair stop, Larry developed a severe case of paranoia due to long terms exposure to loneliness."
Voice
TBA