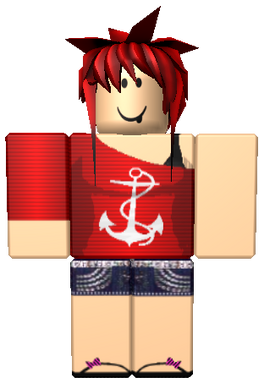 Lara is the last 2014 Summer Update character in The Mad Murderer, and is a Tier 2 character in Mad Games.
Appearance
She wears Red Cartoon Hair as hat, the Silly Fun Face, Red Shirt with White Anchor and Short Jeans. 
Trivia
Before Lara was playable, she was seen in a thumbnail with hashtags "#BRAVE #COWARD #JEALOUS".

Lara is also seen in a Mad Games thumbnail. She is with Tom, who is trying to stab her with a knife.

She is a cowardly person, and sticks with people that are somewhat braver than she, as in one thumbnail, she was sticking with Nemo, the sheriff in the thumbnail.
Lara is Canadian.
Lara is Julie's younger sister. However, it is confirmed that Lara is at least 16 years old due to having a car or a learner's license.