Hunter is a Tier 2 character card in Mad Games.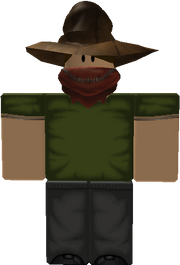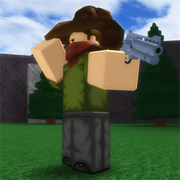 Appearance
Hunter is a white male with brown hair. He wears a green t-shirt, gray pants and black shoes, brown wizard-style hat and a red stitched scarf that covers his mouth. He wears the Default face.
He is based off of Quenty. The only differences between Quenty and Hunter is that of the bandana is a retexture of the original hat, and the Nomadic Steampunk Hat used on Quenty is not used with Hunter.
Trivia
Looking closely at his character card, you can see that the face used in it is different from his actual face.

In the portrait, Hunter is sporting what seems to be a reversed Err... face.