Were you looking for Henry?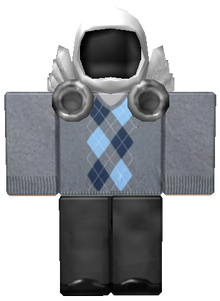 Harry is one of the original characters playable in the game, The Mad Murderer, and is a Tier 4 character in Mad Games.
Appearance
Harry wears a Dominus Empyreus on his head and is clad in a gray argyle sweater. The sleeves of his sweater cover his wrists to the point his skin is unable to be seen (unless his actual palms are viewed). He also wears black shoes and pants.
Trivia
His character is based on Tomarty, the creator of Animation Lab.
Upon removing Harry's dominus (pushing the = key), it is worth noting that he entirely lacks a head.
According to this particular game thumbnail, it is implied that Harry has a crush on Chazz.

In an unused thumbnail, he was blushing at Chazz, implying Harry has a crush on most (if not all) females in The Mad Murderer.

Although his head is invisible, his face model is the Woman Face.
Harry also appears in another game created by Loleris, titled "MAD PAINTBALL!". The game may be found here.