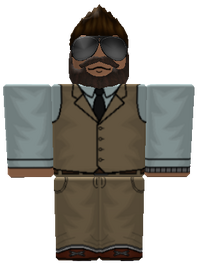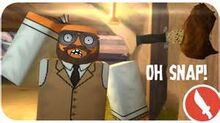 Hans is one of the new characters introduced in the Summer update, in The Mad Murderer, and is a Tier 1 character in Mad Games.
Appearance
Hans has the appearance of a business man of sorts. As you can see in the picture to the right, he has a wig in the style that of a low quiff, a pair of shades, facial features such as a beard and a mustache, and the Sigmund face. Hans wears a suit, perhaps that being for a business. He wears a brown overcoat, with a black tie tucked underneath, brown pants, and the basis of a white shirt underneath the overcoat and tie.
His description in Mad Paintball states he lost his hair as a human test subject on a development of a shampoo. Rendered unable to resume that job, he was hired to work as a bouncer.
Trivia
In version 0.1.9, it is revealed that he wears a wig. This is also seen in his Mad Paintball portrait.