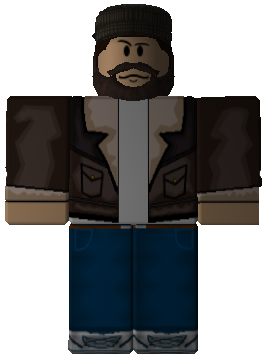 Francis is a character who was introduced in the 2014 Christmas Update.
Appearance
He is a white male who wears the St. Andrew's Beard, a brown jacket with a white undershirt, blue jeans, white shoes, and the French Brimmed Cap. Francis has the Sigmund face.
Trivia
Francis appears to look like a lumberjack.
Francis is commonly depicted as the sheriff in thumbnails.
He can also be seen with Tom in the Mad Games thumbnail for Juggernaut, pointing his revolver at Sergei.
He, unlike certain characters from the Christmas crew, is still playable after the Old Merge Update.
Francis has the longest name in The Mad Murderer: a total of 7 characters, along with Sherman and Walther (It appear as Walt in The Mad Murderer).
Some also refer to him as Jontron from the Game Grumps on YouTube.