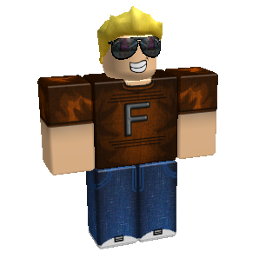 Fabio
is a craftable character in
Jury Rigging
.
Appearance
Fabio wears a brown T-shirt with a gray letter F, blue jeans, white shoes and sunglasses with the rear of a Robloxian 3.0 woman seen in the reflection. Fabio has spiky blonde hair and the Awkward Grin face.
Description
"Fabio's past is a complete mystery, as he never talks about himself, only complimenting on the looks of whoever he is talking with. Gender doesn't matter - he likes everybody. "
Voice
Fabio was voice acted by Veni-Mortem.