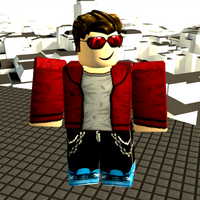 Eliah is a character introduced in the 2014 Summer Update and a new addition to The Mad Murderer, and a Tier 1 character in Mad Games.
Appearance
He has brown hair, wears crimson sunglasses, a white t-shirt with a red jacket over it, and black chain pants and blue sneakers.
Trivia
If you would dress up like him, the glasses will be closer to your hair. 
He and Ethan wear the same jacket, but different in colours. His jacket is red and Ethan's is blue. 
It has been stated that he and Ethan are brothers.