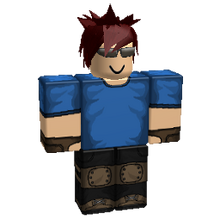 Duke is a craftable character in Jury Rigging.
Appearance
Duke is a white male who has auburn spiky hair, wears dark sunglasses, and carries a default smile. He wears a blue t-shirt, brown gloves, black pants, brown knee pads, and brown boots.
Description
"Duke is an agile individual - his parkour skills have saved him from several murder attempts. But who knows if he really is even a mortal, there are some rumours about his true identity being a vampire!"
Voice
TBA
Trivia