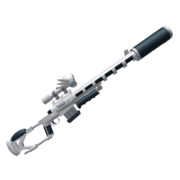 Dominus
is a sniper rifle in mad paintball 2.
Appearance
The Dominus is a sniper rifle designed after the sniper rifle in Fallout 3 or Fallout New Vegas. It has a white and gray colour scheme and a miniature Dominus hood decoration on the front side of the scope. A suppressor is attached to the barrel.
Trivia
This weapon was designed as Harry's signature weapon.