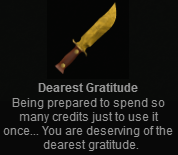 Dearest Gratitude is a knife texture in the Mad Murderer and Mad Games. In Mad Games, it turns players into solid gold upon contact.
Dearest Gratitude, like all other shop items in the Mad Murderer, used to be able to be purchased temporarily, but after the XMAS Update, could only be purchased permanetnely. This knife texture is also the most expensive texture.
Shop Description
"Being prepared to spend so many credits just to use it once... You are deserving of the dearest gratitude."