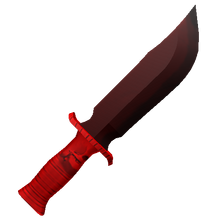 Darkness Knife is a knife skin in Mad Games.
Appearance
Darkness knife is a knife with a bright red grip decorated with a picture of a human skull. It has a dark red blade. It was based on the Beast's scythe.
Kill Effect
Players killed by Darkness Knife transform into skeletons while a "BOO!" is heard.