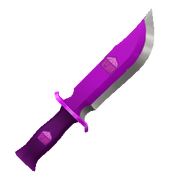 The Cupcake Knife is a Knife Texture in the colors of a cupcake, with pink and purple colors all over and white at the end, representing icing. The Cupcake Knife costs 7 credits per round as murderer and it costs 100 credits to buy permanently. Later, in the XMAS update, you can only buy knives and accessories permanently.
Shop Description
The question is, does it have frosting? Yes. Yes it does.
Trivia
The Cupcake knife was originally called "Cutcake", a pun of words "cut" and "cupcake".
The cupcake symbol appears on Cupcake's shirt.
In Mad Paintball, a character named Cupcake is seen holding this knife in the Menu. Therefore that implies that this knife must be a signature knife of Cupcake.