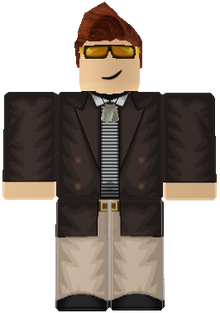 Cliff is a character introduced in the 2014 Christmas Update in The Mad Murderer, also making an appearance in Mad Paintball as a rifle class character, as a Tier 1 Character Card in Mad Games and as an exclusive character in Jury Rigging.
Appearance
He is a male with the Gold Flash Shades, the Rick hair, Dog tags, the Finn McCool face, a brown trench coat with a striped shirt under it, and cream coloured pants and brown shoes.
His appearance is a nod to Rick Astley.
Trivia
He was not removed in the Old Merge, unlike most of the XMAS crew.
Cliff also appears in Mad Paintball.