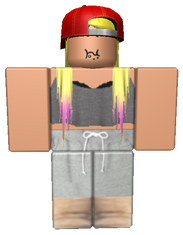 Chazz is a character introduced in the 2014 Summer Update and a new addition to The Mad Murderer, and a Tier 1 character in Mad Games.
Appearance
She thinks she's blind because her cap is over her eyes, although if she takes the cap she will get her sight back. She is a white female with blonde hair and pink streaks at the ends, wears a red baseball cap over her eyes, a grey and black top, and grey sweatpants with tan boots.
Trivia
She also makes a cameo in Mad Games in the farm map. She is one of the characters displayed in Mad Paintball on the monitor.
Harry has a crush on her in a thumbnail.
She is debuted at the game TNT Rush, which it wasn't made by Mad Studio.