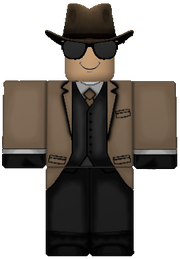 Charlie
was a character added in the 2014 Christmas Update. He was later removed in the Old Merge.
Appearance
Charlie is a male who wears a brown camp hat, black shades, black pants, black boots, a black vest over a white dress shirt, a brown tie, and an open light brown jacket. He has the Adoration face.
Charlie bears a resemblance to Doctor Who with his theme of clothing.