Basic Info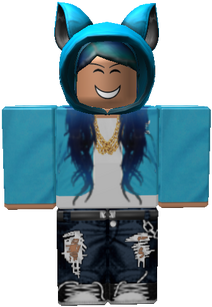 Callie
is a new character introduced in the November Update of
the Mad Murderer
.
Appearance
Callie is a tanned girl with blue Orinthian Hair, wears a Blue Animal Hoodie, and has the Know-it-All Grin face.
She wears a blue animal jacket, a white T-shirt underneath, a golden necklace, a belt, ripped dark blue jeans, and a pair of black and white canvas shoes.
Trivial
She was introduced in the November 9th, 2015 Update along with Signe, Angel, Jessi, Drew, Fabio, Red, Nolan, Clutch, Garry, Larry and Ross.
She was based off an outfit made by TwoMindedMusic.
According the description of her in Jury Rigging, she's from California and she stays up around the clock with the power of coffee and energy drinks.