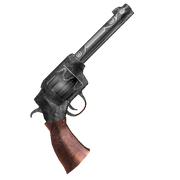 Black Iron
is a tier 1 revolver skin in
Mad Games
.
Appearance
Black Iron is a dark, engraved revolver with wooden grip. Bullets loaded to the drum appear to be slightly smaller caliber than most revolvers in Mad Games.
Trivia
Black Iron was originally named "Cupcake" due to a mistake.
Oddly, the drum appears to be backwards on the gun.