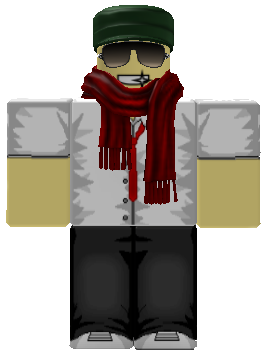 Ben is a character that was introduced in The Mad Murderer's version 0.1.1 (the first Summer Update), and is a Tier 3 character in Mad Games.
Appearance
He resembles PlaceRebuilder (the developer of Reason 2 Die); the key differences are his skin tone, lighter than PlaceRebuilder's. Ben also lacks PlaceRebuilder's body package, leaving him with 1.0 body like everyone else.
He wears a green Infidel Castor hat, Ice Cold Stunnas, a red winter scarf, a white short-sleeved collared shirt with a loose red tie, black pants, and white sneakers. 
Trivia
Like most characters, Ben was removed in version 0.2.2 and later reintroduced in version 0.2.3.
Ben also appears in Mad Paintball.
He is the 26th character in The Mad Murderer.