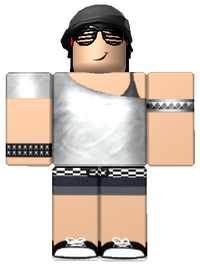 Anna
is a character introduced in the 2014 Summer Update and a new addition to
The Mad Murderer
, later appearing as a shotgun class character in
Mad Paintball
and as a tier 2 character card in
Mad Games
.
Appearance
She is a hipster-like female, dressed in a hat, shutter shades, a silver shirt, checkered belt, gray shorts, bracelets on both of her arms and tattoo on her back. She is Flinn's sister.
Trivia
Originally she had "Mr. Chuckles" face, but due to decal naming error, her face appears as default roblox face.
Anna was removed in the Christmas Update and was brought back in the Old Merge Update.
Anna's description in Mad Paintball says she often witnesses crimes.
Anna was contributed by JaggedDiamond.