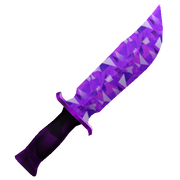 Amethyst Shard
is a Tier 4 knife skin in
Mad Games
.
Appearance
The Amethyst Shard knife has a purple amethyst blade and has a crystal pattern on its grip and hilt.
Kill Effect
Dead players petrify into amethyst statues for a brief time before shattering into 1 x 1 x 1 amethyst blocks.
Description
Turn your enemies into amethyst shards!